Why Choose Us?
Welcome to The Rabbit Rooms!
Small Animal Boarding for your pet in a Home from Home Setting...
As experienced pet owners, (13 rabbits, 4 guinea pigs, 13 chickens and a dog!) we know that when it comes to our pets, they are PART OF THE FAMILY and only the best is good enough! We also know that it is easy enough to find a kennel or cattery to look after your dog or cat when you are going on holiday – but small pets? Not so simple!
In fact, that is EXACTLY why we started this business – we had trouble finding someone to care for our precious fur babies when we went on holiday, and figured that other people must have the same problem!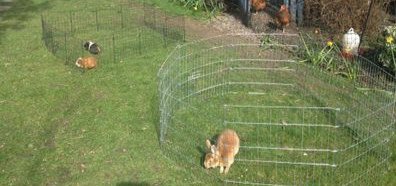 So, why choose us to care for your precious fur baby? We've compiled a list of reasons why our customers love us and why we think we are the best choice for you!
1. EXPERIENCE
After a lifetime of caring for our own pets, (currently 13 chickens, a dog, 4 guinea pigs and 13 rabbits) The Rabbit Rooms has been established now for more than seven years. In that time, we have cared for hundreds of precious small pets, ranging from rabbits to guinea pigs, rats to hedgehogs, reptiles to birds to hamsters. We have dealt with healthy pets, pets with existing illnesses and issues that have developed while boarding, and our dedicated care, promptness dealing with issues and communication with owners every step of the way, has earned us almost 200 5 star reviews on our Facebook page (www.facebook.com/D15rabbitrooms) & Google Business.
2. REGULAR OBSERVATION
While it's cheaper and might seem easier to let a friend or family member care for your pets while you are away, small pets are prey animals who hide their illnesses and injuries well, sometimes until it is too late, and you need someone who can spot any issues before they develop into more serious problems. Rabbits in particular can go into gut stasis and die if they stop eating or pooping for 24 hours, so it is helpful to have someone checking up on them regularly. This is our family home, and this is my full time job so I am pretty much here most of the time, checking on the fur babies regularly, feeding, and getting them out for exercise. Therefore we are quick to spot anything out of the ordinary for your pet
3. RECOMMENDED BY VETS AND VET ACCESS
We work very closely with Palmerstown Veterinary Hospital, where there are two exotic pet specialist vets. They have done additional small pet courses which a lot of vets don't do, and customers travel great distances for their expertise. We take all our own pets here and if we ever have a boarder needing vet care, they are our first port of call since we know they will get to the heart of the issue very quickly. They will accommodate us for appointments at short notice, which means your pet is in great hands! Palmerstown Vets also highly recommend us, and include our information in all their new rabbit information packs for their customers.
On the flipside, we won't rush your pet to the vet and run up vet bills if it is unnecessary, as we have the experience to know when it is an emergency, and when something can wait or be treated here - we have a comprehensive first aid kit here put together from my years of experience caring for other people's fur babies and our own (Click HERE to check out my E books on Putting together a First Aid Kit for your guinea pig or rabbit to make your own!) 
4. CUSTOMER PORTAL – TELL US ALL WE NEED TO KNOW ABOUT YOUR PET!
We have invested a lot of time and money in acquiring a software package which will facilitate our unique business. Its main purpose is as our mobile friendly customer portal, where you can book your pet's stay, at home or on the move. We ask lots of questions about your pet, their medical history and normal routine, so that we know as much about your pet as possible before they even arrive. Knowing what is normal for your pet means we can pick up anything different to the norm very quickly. It also means we can keep your pet's routine as close to as home as possible, allowing them to feel more at home! You can also add your pet's details, and your contact details while you are away, should we need them!
Subsequent visits are very quick to book, you just need to add your holiday dates since your pet's details are already on file for us, and we get back to you quickly confirming your space, or letting you know if we are full so that you can make other arrangements. Our customers love how quick and easy it is to book at any time of the day or night when they think about it, and the confirmation in your email inbox, means you can rest assured your pet's space is secure. One less thing to worry about before you go! Your total fee for booking is also included so you can budget that into your holiday, no surprise fees!
Additional services such as treats, nail clipping or grooming can also be booked this way, either for during your pet's stay or by appointment to suit you.
5. PHOTOS AND UPDATES WHILE YOU ARE AWAY! 
We know that even though you may be confident you made the best decision about holiday care for your pet, that they are part of the family and you miss them while you are away! We also know that it is lovely to have a photo or two of them to see them relaxed and enjoying their holiday too! We'll always respond to your messages asking how they are as well! Our facebook page is full of photos of our guests, so you can see we love taking them and showing them off!
6. CUDDLES AND PLENTY OF TIME OUT OF THE CAGE 
We know that a lot of our guests are free roam or used to a large space when they are at home. They adjust really well to being here, because they get plenty of time outside of the cage, and have lots of stimulating company nearby when they are in the cage overnight! On sunny days, the rabbits and guinea pigs are out in the individual runs in our 150 foot garden, and if the weather isn't so good, they can have a wander about the house, or a cuddle on the couch! The Rabbit Rooms is a family business, originally started by our daughters, so they are very involved in the care of our guests, and cuddles are included free of charge! Some of our customers express concern before they first come that their free roam pet won't adjust to a cage – our answer is that it is like when you are on holiday in a hotel – yes it's smaller to sleep in than your house at home, but you aren't in it that much, you are busy out and about and doing fun things! Our guests enjoy exploring our house, hopping about in the garden listening to the chickens gently clucking at them, and meeting their furry and feathery neighbours (through the bars only! We don't mix guests from different households) We also provide fun things for them to do when in the cage, like treat bombs. We have never had one that didn't settle quickly!
7. ADDITIONAL SERVICES 
Over time we have added lots of additional services as they were requested by our customers. We now offer nail clipping (save that additional trip to the vets!), demoulting groom for rabbits to reduce moulting, specialist lionhead rabbit grooms, guinea pig grooming (bath, haircut, nail clip), rabbit bonding (if you'd like to add a second rabbit to your household or are having problems trying to get them to get on!), and occasionally we offer a pet photo service with props and dress up! You can also spoil your pet while you are away, with additional treats! You can book these as part of your pet's stay or by appointment. In 2021, we began doing Virtual Bunny and Guinea Pig Care classes, courses and EBooks, on all aspects of care for your fur babies, and these have proved really popular! 
8. LOCATION 
Based in Blanchardstown, We are within easy reach of Dublin, Meath and Kildare, being located close to the M50, N3 and close to the airport, so why not drop your pet to us on your way?!
Please feel free to have a look around our site, and press the booking button to request a booking, we look forward to looking after your bundles of fluff for you! Fiona x