Ireland's Premier Small Animal Boarding
Click on the button below to log into our
Booking Portal so that you can book your fur baby's holiday!
We provide rabbit and guinea pig boarding, and also boarding for rodents and reptiles :)
Our customer portal is MOBILE FRIENDLY, and you can book your pet's stay, at home or on the move.
We ask lots of questions about your pet, their MEDICAL HISTORY AND NORMAL ROUTINE, so that we know as much about your pet as possible before they even arrive. Knowing what is normal for your pet means we can pick up anything different to the norm very quickly. It also means we can keep your pet's routine as close to as home as possible, allowing them to feel more at home!
You can also add your pet's details, and your CONTACT DETAILS WHILE YOU ARE AWAY, should we need them!
Subsequent visits are very quick to book, you just need to add your HOLIDAY DATES since your pet's details are already on file for us, and we get back to you quickly confirming your space, or letting you know if we are full so that you can make other arrangements.
Our customers love how quick and easy it is to book at any time of the day or night when they think about it, and the confirmation in your email inbox, means you can rest assured your pet's space is secure. One less thing to worry about before you go! Your total fee for booking is also included so you can budget that into your holiday, no surprise fees!
Additional services such as treats, nail clipping or grooming can also be booked this way, either for during your pet's stay or by appointment to suit you.
(If you are a new customer, you will need to register first - please make sure not to skip over the part asking you to add your pet's name and type as the Book Now option won't appear properly until you do, since the system needs to know your pet's type to allocate an appropriate space / cage and rate - thank you!)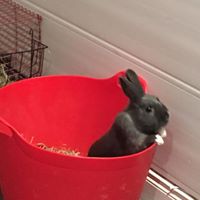 FREQUENTLY ASKED QUESTIONS ABOUT 
THE RABBIT ROOMS SMALL ANIMAL BOARDING! 
When considering boarding your beloved fur baby, naturally there are lot of questions you would like to ask!
We totally understand this as we are the exact same when we have to board our pets, – In fact, our mission is to allow you to relax and enjoy your holiday, knowing that your fur baby is enjoying theirs!
Some of these questions come up again and again, so we thought it might be helpful to do a FAQ section  Of course, if there is anything we have missed that you would like to know, please do get in touch!
Why Should I Choose The Rabbit Rooms for my Fur Baby's Holiday?
We have are Ireland's Premier Small Animal Boarding Service and have been offering this since 2014. We are very experienced, specialist pet carers – we are experts in our field! We care for hundreds of furry guests every year and are recommended by vets and pet shops. Fiona has been a rabbit and guinea pig slave for over 30 years and we currently are 'pawrents' to  12 of our own rabbits, 5 guinea pigs (we breed and show mini rex rabbits and lunkyara guinea pigs so we are very experienced with very young animals right up to old age, all through the life stages!), 6 chickens, and a dog!
Because we couldn't find someone to look after our menagerie (there are plenty of kennels and catteries but it's hard to find a place experienced with the more complex, small furries!) we realised other people must have the same issue!
We provide holiday boarding  for rabbits, guinea pigs, hamsters, gerbils, pet rats, chinchillas, reptiles, birds, and hedgehogs,  – we even had a pair of goldfish visit once! Over the last few years we have also expanded our service to include pet sitting, guinea pig and guinea pig grooming, and rabbit bonding as our lovely customers have requested these services, so we are a one stop shop for your fur baby's needs and you can book these services as add ons to boarding or seperately.
We are a family business, which means your pet has a home from home experience, and our pet room is in the house so they are checked on regularly throughout the day, rather than being in a shed down the garden, or next door to barking dogs in a commercial kennel.
Our whole family is passionate about all animals, so your beloved fur baby gets lots of attention while on holiday with us, just like at home!
MY RABBIT IS A HOUSE RABBIT AND FREE ROAMS AT HOME, WILL BOARDING AND BEING IN A CAGE WORK FOR HIM?
The vast majority of our bunny guests are in fact house rabbits and used to a lot of space, – however they adapt very well to being in a cage for part of the time with us, as long as they are let out plenty! They aren't stuck in the cage all day, we provide outdoor exercise in covered, supervised runs in the summer, and when the weather isn't good they have a potter about the pet room, chatting to their neighbours through the bars! They can also be often found sitting on the couch watching tv with us and having a cuddle, just like at home! We have never had a pet who hasn't settled within a few minutes, and you can rest assured we treat each pet as an individual and will do everything in our power to make sure they are relaxed and comfortable during their stay!
Do you Let the Pets out Together?
No, we don't. All pets are housed separately (or with their furry siblings they come in with!), and are let out separately into separate runs. We don't  mix them at all due to the risk of fighting, mating or the spread of germs. It wouldn't do to send you home with a pregnant rabbit or guinea pig! They do however enjoy chatting through the bars, and considering they aren't used to being around strange bunnies, they seem to really enjoy it, and find the sounds and smells of the other guests relaxing!
What do I need to Bring with Me?
Packing for your own holiday can be time consuming enough, but it can also be hard to know what to pack for your small pet's boarding experience ! You don't want to take too much, but you want to make sure they have everything they need and that will make them more comfortable while they are away from home!
First of all, rest assured we will do everything we can do make your furry friend's stay with us a fun and very happy experience! We want your pets to be relaxed with us and for you to be able to relax knowing we are treating them as well as you do! Don't forget we have lots of pets ourselves and are experienced at making newcomers comfortable!
Rabbits and guinea pigs, we provide the cage, bedding, fruit and vegetables. Please bring them in a secure carrier (in case we need to take them to the vet and so we can get them ready for you on pick up day), and their usual dry food (pellets or muesli), so they don't get a tummy upset. We do also provide farm fresh, meadow hay, (which we buy by the bale and most furries love) but if your bunny or guinea pig is fussy with hay, or likes a particular kind, please bring that too as it is vital they eat enough hay while they are away from home 
All other pets please provide your own cage as we find rats, hamsters, gerbils, birds and reptiles are happier in their own surroundings. Please bring bedding to put into it, and any replacement bedding they'll need during their stay - there is a wide variety of beddings out there and different size cages, and you know best what your furry friend prefers! You are welcome to bring spare hammocks, soft hideys etc and we will wash them if necessary. For these pets, please also bring their usual dry food to avoid a tummy upset, - we can provide fruit, vegetables, millet and treats.
FOR ALL PETS - Please feel free to bring any particular treats your pets love, or toys from home that you think will make them feel more settled! This includes furniture such as tunnels or houses if you think they would be happier! If they don't use any of that , no problem!!
How much does Boarding Cost?
2022 BOARDING FEES
1 RABBIT - €14 PER DAY
2 RABBITS SHARING SAME CAGE - €25 A DAY
3 RABBITS SHARING SAME CAGE - Please contact us for quote and availability
GIANT RABBITS IN A RUN - €18.50 A DAY BUT AVAILABILITY ONLY OUTSIDE SCHOOL HOLIDAYS
1 GUINEA PIG - €12.50 A DAY
2 GUINEA PIGS IN SAME CAGE - €21.50 A DAY
3 GUINEA PIGS IN SAME CAGE - €31 A DAY
4 / 5 GUINEA PIGS IN A RUN - Please contact us for quote and availability, only available outside school holidays
RAT IN OWN CAGE - €10.50 A DAY
2 RATS IN OWN CAGE €18.50 A DAY
3 RATS IN OWN CAGE €27 A DAY
4 RATS IN OWN CAGE €34.50 A DAY 
HAMSTER IN OWN CAGE €6 A DAY
OTHER PETS PLEASE CONTACT US FOR QUOTE 
CONTACT US  FOR QUOTES ON info@therabbitrooms.ie
If you have several pets in different cages we may be able to offer a multi pet discount.
What Happens if my Pet gets sick while they are with you?
Because we have been doing this for so long and care for so many different pets each year, plus having so many pets of our own, we are very experienced at spotting signs your pet is feeling under the weather, and also work very closely with Jennifer in  Palmerstown Vets - she is our 'go to vet' because she is an Exotic Specialist and is extremely rabbit and small furry savvy! Our first choice will be to take your fur baby to Palmersown, but we lso have other vets we trust and work closely if necessary and we will take your pet to an out of hours vet if necessary
So, if ever your pet does get ill while boarding with us, you can rest assured that firstly, we will notice because of our experience, and secondly, that we will get excellent vet care for him / her!
The first thing we will do is get in touch with you to update you, and see if there is any history of the illness, and get your permission to take your fur baby to the vets if that is necessary. If we cannot get you, we will try your emergency contact.
In our online portal there is a drop down menu for you to choose how much you authorise us to pay out if we can't get hold of you, and we will cover the bill until you get home, – you can fix us up for this with your boarding fees when you pick up your pet.
We will also give your vet's details to our vet so they can consult about your pet's health and medical history if necessary.
We will then work with the vet on treatment for your pet, and if at all possible we will bring them back home with us, and give any medications necessary. If that isn't feasible for example if your pet's illness is contagious, we will ask that your emergency contact picks up your pet, or board them with the vets if specialised care is required.
At all times, we will keep in touch with you and keep you up to date, respecting your wishes for your pet's care.
What other Services do you Offer?
We also offer –
Pet sitting in Dublin 15 (prices start at €25 for a 30 minute visit for up to three pets), so if you think your pets will be happier in their own home, call us to arrange a free 'meet and greet' – we will pop in at a time to suit you, meet you pets, see what you would like done and give you a no – obligation quote
Guinea pig grooming
Nail clipping for rabbits and guinea pigs
Rabbit Grooms - demoulting groom, lionhead / angora grooms, and poopy bum clean ups
Rabbit bonding - in person and virtually  – so no matter where you are in the world, if you are thinking of getting a friend for your bunny, or have two that you are struggling to bond, why not let me help? Check out www.thebunnybondingocoach.com or choose 'Bunny Bonding' in the coloured icons at the top of the page
Rabbit and Guinea Pig Care Classes - so if you are thinking of getting a pet or want to know more about an aspect of their care, check out www.fionaspetacademy.ie or choose Fiona's Pet Academy in the coloured icons on the top of the page
Do you board un-neutered pets?
It's not a problem if your fur baby isn't neutered and is a solo pet, as we don't let them out with the other pets anyways. However we don't board pairs of un-nuetered rabbits over 4 months of age - this is because it is at this age that the hormones kick in and they usually fall out and may even fight, - this is much more likely with other bunny hormones nearby! 
Will you give medications while my pet is with you?
If your pet is on any medications at the time of boarding or had any veterinary procedures recently, please contact us BEFORE drop off to discuss if it is still o.k. for them to board with us, (the health and safety and comfort of all our guests is paramount and sometimes unfortunately we can't accommodate a pet if they have a serious or contagious illness), - we would hate to have to turn you away at the door, so please be sure to give us a ring to discuss in advance
We are happy to some administer medicines/creams etc, but there may be a charge for this. 
Once we have authorised your pet stay, please make sure you give us enough for your pets whole visit and bring us written instructions on how to apply it when you drop off. 
How do you reduce the chance of the spread of disease?
We take health and safety very seriously here at The Rabbit Rooms, and appreciate the trust you put in us by leaving them in our care
The very nature of any boarding facility, where several pets are staying so close together means there is a chance of them infecting each other, we do everything in our power to avoid that.
Firstly, we do not board pets with contagious illnesses, we are especially cautious of respiratory infections (sneezing, runny noses etc).
Secondly, if a pet develops symptoms of any illness, while boarding, we get them seen by a vet as soon as possible and isolate them away from other pet's imediately. If they are diagnosed with something contagious, we get them collected if possible or isolate them if not. 
We use a vet grade disinfectant to clean between guests, - all cages, bottles, bowls, huts etc are cleaned with this, as well as walls and floor. 
We do not use anything for your pet that we cannot appropriately disinfect - for example wooden items are porous and so cannot be disinfected appropriately so we don't use them at all. The danger of EC, RHD, Infections are all increased with these types of products. If when you visit you see these in any cages, these belong to the guests and came with them, we do not provide or use them. Everything we use must be disinfectable or disposable. 
While your pet being around other pets may naturally increase their risk of illness, we do everything in our power to avoid it, and act promptly and appropriately, if we have any concerns about a pet's health
If you have any more questions on any aspect of our boarding please feel free to get in touch! We look forward to taking great care of your fur babies for you!
Fiona, Ciaran, Ruth, Heather and Keeva