Genuine Home From Home Care For Your Fur Baby!
The Rabbit Rooms is a FAMILY RUN, HOME FROM HOME Small Animal Boarding service, which we set up in 2014 after having trouble finding holiday care for our own small furries! We are extremely experienced pet owners (currently our furry and feathery family consists of 13 bunnies, 4 guinea pigs, 13 chickens and a dog, but over the years we have owned all sorts of pets!) and are based in Dublin 15, so within easy access of the M50, city centre, the airport, Meath and Kildare. In recent years, we have extended our services to include rabbit bonding, guinea pig and rabbit grooming, nail clipping, and pet sitting in Dublin 15.
We offer expert, specialist rabbit boarding and guinea pig boarding, and also boarding for hamsters, rats, gerbils and reptiles.
We take great pride in our service, and the PEACE OF MIND we offer our lovely customers, who can relax knowing their fur babies are also ENJOYING THEIR HOLIDAY, and return time after time! We have NEARLY 200 5-star reviews on our Facebook Page & Google Business, so you can be sure your fur baby is IN THE BEST HANDS!

Please feel free to contact us on 083 4041465 or DROP US A MESSAGE! we'd love to chat to you about care for your little one, or have a look around our site to hear more about our services!                                                            Fiona x

PS... Please phone us on 083 4041465 to discuss your pet's needs or if you'd like to book, check our availability for your dates, or set up your pet's details for future bookings, you can use our customer portal, simply click the button below...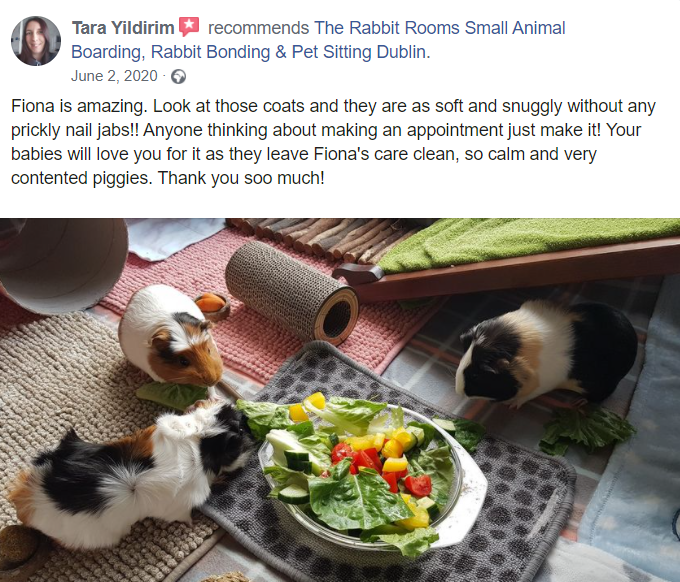 Sign up for our Newsletter! 
Be first to receive my latest blogs, fur baby care tips, special offer and news!